Rien à dire
Show at Blois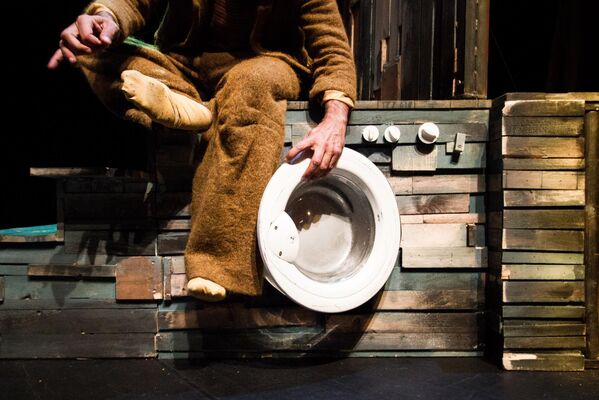 Un spectacle d'humour poétique, sans parole
Comme Chaplin dans Les Temps modernes, le clown Leandre vit dans une maison de planches rafistolées, meublée de bric et surtout de broc. La sienne cependant n'a pas vraiment de murs, elle est autant le royaume de l'imagination que le sien et il lui faut composer avec l'armoire hantée et parfois musicale, des centaines de paires de chaussettes, la mystérieuse circulation de la lumière, des tiroirs sans fond, des pluies de parapluies, une certaine tendance de l'ensemble à être penché. Une maison à effets spéciaux en somme.
Leandre s'adapte à toutes les situations avec une candide roublardise.
Il ne dédaigne pas les facéties. Il lui faut pour cela de la compagnie. Faut-il un postier, un reflet de soi-même, une partenaire avec qui danser ? C'est le public qui est invité à entrer dans le jeu. Comme Chaplin, comme Harpo Marx, comme bien d'autres héros burlesques du cinéma muet, Leandre ne parle pas. Tout en mimiques et pantomimes, il crée un monde étrange, chaleureux et solitaire, poétique et drôle, imaginaire et très concret, à la fois intime et universel.

Leandre Ribera est l'un des cofondateurs, en 1986, de la compagnie de cirque et de théâtre de rue La Tal. En 1993, il se consacre entièrement à son personnage de clown, avec le spectacle Street-Tease, qui tourne dans toute l'Europe. Suivent Démodés, vibrant hommage aux clowns classiques, Fragile, un duo avec la danseuse Claire Ducreux, Iceberg en duo avec Miriea Miracle et Chez Leandre, dont Rien à dire est la version théâtrale.
On

December 18, 2018

From

December 19, 2018




until

December 20, 2018
Leave a review about Rien À Dire :
Horrible

Bad

Average

Good

Excellent
There is no review about Rien À Dire, be the first to leave one !