Jusque dans vos bras
Show , Theatre at Blois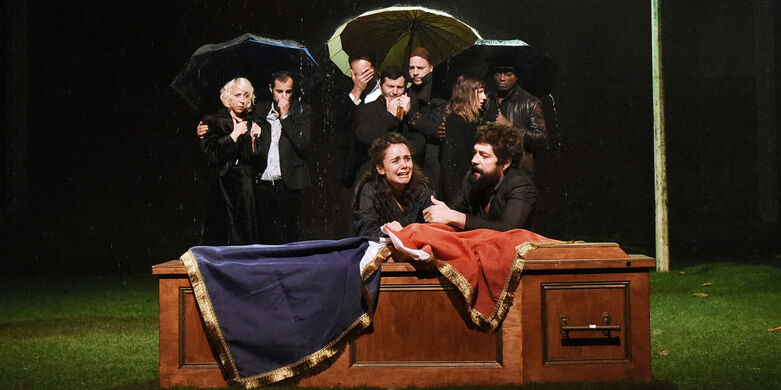 La meute à l'humour décapant interroge l'identité nationale…
Les bras du titre sont bien connus. Ce sont ceux jusque dans lesquels de mugissants et féroces soldats viennent à qui mieux mieux égorger fils et compagnes. Depuis quelques années, la « France éternelle » serait menacée dans ce qu'elle a de plus personnel : son identité. C'est à l'abordage de ce trésor national que se lancent Les Chiens de Navarre, toutes voiles de la dérision, du burlesque, de l'idiotie assumée et du mauvais goût dehors.
Des obsèques nationales sous une pluie battante, un canot de migrants à la dérive, un pique-nique que l'absence de jambon fait tourner au défouloir raciste, des astronautes sur le point de planter le drapeau français sur le sol d'une lointaine planète, un fonctionnaire de l'OFPRA confronté à une personne ne parlant que le lingala… En quinze tableaux hilarants, où l'on croise également Charles de Gaulle, un éléphant rose, Jeanne d'Arc, des requins en plastique, Marie-Antoinette ou Obélix, la cynique bande ne laisse aucun répit au roman national, le transformant en « une vaste patinoire où tout le monde glisse ».

D'abord comédien, Jean-Christophe Meurisse a créé Les Chiens de Navarre en 2005, pour monter des spectacles écrits collectivement sur le plateau, nourris d'improvisation et cherchant sans retenue la « puissance séditieuse du rire ». La troupe a été notamment remarquée avec Une Raclette, présenté en 2009 au festival Très jeunes créateurs contemporains. Elle a depuis produit huit autres spectacles, dont Quand je pense qu'on va vieillir ensemble programmé à la Halle aux Grains en 2016.
Leave a review about Jusque Dans Vos Bras :
Horrible

Bad

Average

Good

Excellent
There is no review about Jusque Dans Vos Bras, be the first to leave one !