Dans l'engrenage
Show at Blois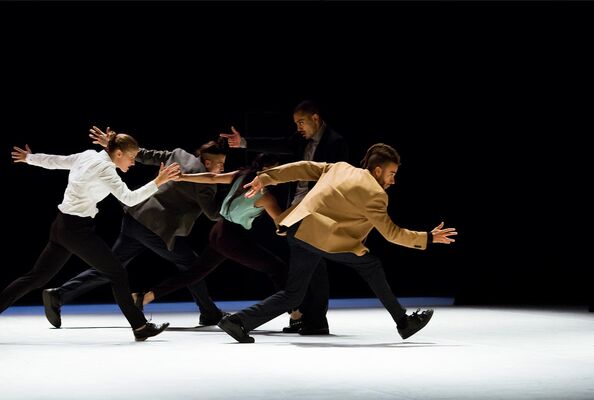 Hip-hop sous haute tension…
Fort, vite et sans relâche : il faut se battre, la machine ne s'arrête pas. Debout derrière une table, dans une posture qui évoque le pouvoir, une jeune femme semble se désarticuler, laissant bientôt libre une haute position sociale sans doute durement conquise. Commence alors le ballet des successeurs, des alliances, des trahisons. Dans une ambiance grise et noire, fortement contrastée, Dans l'engrenage donne à voir les luttes pour une place au soleil, un groupe qui se forme, crée son ordre, sa hiérarchie et ses normes, jusqu'à l'oppression qui provoque la révolte, laquelle fait naître un nouvel ordre, une nouvelle hiérarchie, de nouvelles normes…
Pour ce deuxième volet d'un triptyque consacré à la révolte, Dyptik crée une danse puissante, très physique, souvent inspirée de danses traditionnelles qui mènent à la transe. Dans une course implacable où la fin justifie les moyens, chacun des sept danseurs est à la fois un rouage et un individu, tendu vers son but, faillible, fiévreux, parfois simplement heureux. Humain.

Souhail Marchiche et Medhi Meghari sont danseurs et chorégraphes. Ils travaillent ensemble depuis 1998, date à laquelle ils ont fait connaissance au sein du collectif stéphanois Melting Force Crew. Ils en prennent la direction artistique en 2007 puis créent, toujours à Saint-Étienne, leur propre compagnie, Dyptik, en 2012. Ils y produisent un hip-hop engagé et ouvert à de multiples collaborations et influences. Depuis 2014, ils dirigent également des studios de résidence et d'enseignement ainsi que le festival de danse Trax.
Schedules

On

December 11, 2018

at 20:30
Leave a review about Dans L'engrenage :
Horrible

Bad

Average

Good

Excellent
There is no review about Dans L'engrenage, be the first to leave one !