Noël à la Maison de la bd
Local event , Workshops at Blois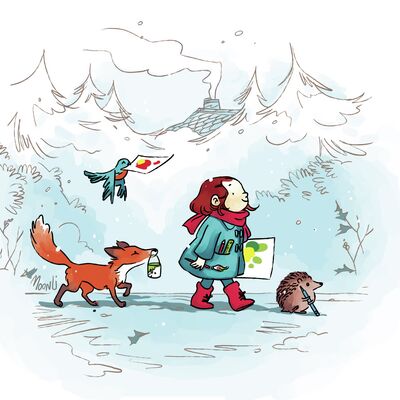 A l'occasion des fêtes de fin d'année, la Maison de la bd propose un aprèsmidi
pour les petits et les grands avec des ateliers de pratique artistique
et un goûter.

Auteurs en dédicace :

> Fabrice Lebeault, Spirou, fondation Z
> Patrice Le Sourd, Le petit bois
> Claire Godard, Le train cabaret
> Chiara Arsego, Du rythme dans les pattes
> Patrick Bresso, Les trois pirates
> Jenny, Comme un garçon
> Philippe Larbier, Les P'tits Mythos

Exposition « René Pétillon : Le Prince de la bd »

René Pétillon débute dans L'Enragé et Planète puis se lance dans la bande
dessinée. En 1974, il crée le célèbre détective Jack Palmer qui se baladera
dan Pilote, L'écho des savanes, Télérama et VSD. Il scénarisera également
Le Baron noir dont Yves Got assure le dessin. Il entre en 1993 au Canard
Enchaîné où chaque semaine, il publie des dessins politiques Le père de
Jack Palmer s'est éteint le 30 septembre 2018.

Exposition « P'tits diables » d'Olivier Dutto

La série est réalisée par Olivier Dutto. L'histoire est basée sur les rapports
plutôt tumultueux mais drôles entre un frère, Tom, et sa sœur, Nina. La
série a également été adaptée en dessin animée.

Exposition « Mystères à la Maison de la magie » de Thierry Bonneyrat
et Laurent Tardy

A l'occasion du vingtième anniversaire de la Maison de la magie, la Ville
de Blois et bd BOUM coéditent chez Bibloquet, ce livre jeunesse. Le
magicien Eddy Lusion et son jeune et malicieux apprenti Minot Merlin
mènent l'enquête à la Maison de la magie.
Schedules

On

December 15, 2018

at 14:00
Leave a review about Noël À La Maison De La Bd :
Horrible

Bad

Average

Good

Excellent
There is no review about Noël À La Maison De La Bd, be the first to leave one !