Maintenant ou jamais
Show , Circus at Blois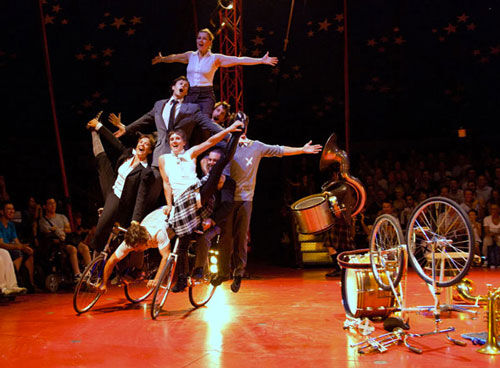 Ébouriffant mélange de numéros au service d'une réflexion sur l'utopie
Le ciel du chapiteau est étoilé, la piste est rouge et quand le spectateur y pénètre, il y trouve une bonne odeur de crêpes, des fruits, des boissons et un joyeux bazar. Ce n'est pas encore le spectacle, mais on sourit et on s'étonne déjà. Alors que la grosse caisse encaisse, que le soubassophone soubasse et que le public gagne (provisoirement) les gradins, commence un très jubilatoire enchaînement de numéros de fanfare acrobatique et d'acrobaties fanfarées. On verra ainsi les onze musiciens-acrobates de la troupe fendre l'air de bascule coréenne en épaule amie, d'épaule amie en trapèze. On les verra inventer la fanfare véloportée. Car le vélo acrobatique tient ici une grande place, comme une déclaration d'intention : il est la version sans frein d'un objet quotidien. Et démocratique avec ça : c'est fou le nombre de personnes qu'on peut y entasser.
« Éteignez les télés, ouvrez des guinguettes » lance un voltigeur avant d'effectuer un double salto vrillé. Dans l'espace circulaire du chapiteau, là où chaque place est la meilleure, Maintenant ou jamais crée un lieu de liberté, d'invention collective et de joie partagée. Presque un programme politique.

Circa Tsuica est l'une des branches du Cheptel Aleïkoum, troupe fondée, au sortir de l'école, par les dix-sept élèves de la promotion 2004 du Centre national des arts du cirque de Châlons-en-Champagne. Installée à Saint-Agil (Loir-et-Cher), le collectif a créé douze spectacles où le cirque se frotte à d'autres disciplines, où prévaut un esprit de communauté et où il n'y a pas de frontière entre art et vie quotidienne.
From

October 24, 2018




until

October 25, 2018

On

October 26, 2018

On

October 27, 2018

On

October 28, 2018
Leave a review about Maintenant Ou Jamais :
Horrible

Bad

Average

Good

Excellent
There is no review about Maintenant Ou Jamais, be the first to leave one !