L'Ecole des femmes
Concert at Blois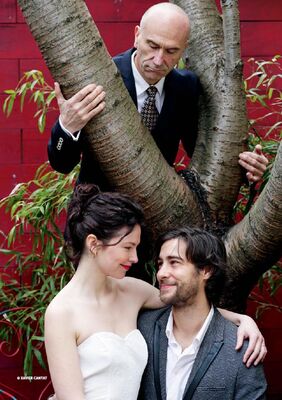 # BALANCE TON ARNOLPHE
On s'affaire sur scène. On monte la maison et la chambre nuptiale d'Arnolphe et de la très jeune Agnès. Pour le futur mari, c'est l'aboutissement d'années de préoccupations. Obsédé par l'idée de ne jamais être trompé, il a jeté son dévolu sur la jeune fille lorsqu'elle était tout enfant et l'a fait élever au couvent « selon [sa] politique / C'est-à-dire ordonnant quels soins on emploierait / Pour la rendre idiote autant qu'il se pourrait ». Il la tient depuis quasi prisonnière, en attendant d'être « son mari, son chef, son seigneur et son maître ». Ce projet plein de démesure se retourne contre lui, car la complète innocence d'Agnès s'avère être le terrain le plus favorable qui soit à la découverte émerveillée de l'amour, qui se présente sous les traits du jeune et beau Horace, aperçu par hasard. Et en fait d'école, c'est bien Arnolphe qui devra prendre une leçon. La pièce, créée en décembre 1662, fut un immense succès, mais suscita force attaques contre sa prétendue immoralité. Molière la reprit en juin 1663, augmentée de La Critique de L'École des femmes, conversation de salon où il ridiculise ses détracteurs. Le succès redoubla.

Christian Esnay est comédien et metteur en scène. D'abord membre du groupe T'chan'G de Didier-Georges Gabily, il crée son premier spectacle en 1998 : une version de Songe d'une nuit d'été jouée en appartement. Il a fondé Les Géotrupes (c'est le nom d'un coléoptère) en 2002, compagnie avec laquelle il promeut un théâtre ouvert au plus grand nombre. La troupe a joué depuis 21 pièces, de Howard Barker à Euripide en passant par de toutes récentes et très appréciées Fourberies de Scapin.
From

November 7, 2018




until

November 8, 2018

On

November 9, 2018
Leave a review about L'ecole Des Femmes :
Horrible

Bad

Average

Good

Excellent
There is no review about L'ecole Des Femmes, be the first to leave one !