Jardin secret
Show at Blois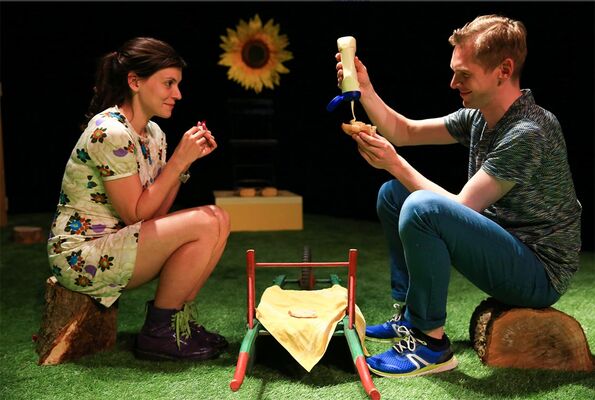 Un conte moderne où le merveilleux côtoie la lucidité

Mina s'ennuie souvent. La petite fille est trop seule dans la grande maison de son père. Un dimanche après-midi, alors qu'elle s'apprête à faire ses devoirs, elle aperçoit un jeune garçon qui se glisse dans le jardin. Elle fait ainsi la connaissance de Mayo, qui est venu là pour se cacher, poursuivi, mais par qui ? De jeu en chamaillerie, de fausses timidités en confidences lacunaires, les deux enfants jouent à une sorte de cache-cache au cours duquel affleurent ou se découvrent des territoires inconnus. À l'abri du monde opaque et parfois hostile des adultes, à la charnière de l'enfance et de l'adolescence, le temps s'étire et se déforme, les voici dans un jardin secret où pourrait bien avoir lieu « un baiser qui fait battre le cœur ».

Fabien Arca est comédien, auteur et metteur en scène. En 1997, il a créé sa compagnie, Art K, avec laquelle il explore des formes innovantes d'écriture théâtrale. Il est l'auteur de nombreuses pièces, fables contemporaines, dont Moustique (2011) destinée au jeune public.
Jean-Michel Rivinoff est acteur et metteur en scène. Parallèlement à une longue collaboration avec le metteur en scène Bruno Meyssat, il a créé, avec la chorégraphe Christine Olivo, la Compagnie La Lune blanche, où il se consacre à des textes contemporains. La Halle aux rains a programmé ces dernières années plusieurs de ses spectacles : Mer de Tino Caspanello (2016), Être humain d'Emmanuel Darley (2013) et L'Immigrée de l'intérieur d'Annie Ernaux (2011).
From

January 17, 2019




until

January 18, 2019
Leave a review about Jardin Secret :
Horrible

Bad

Average

Good

Excellent
There is no review about Jardin Secret, be the first to leave one !