Molineuf
Town, village, neighbourhood at Molineuf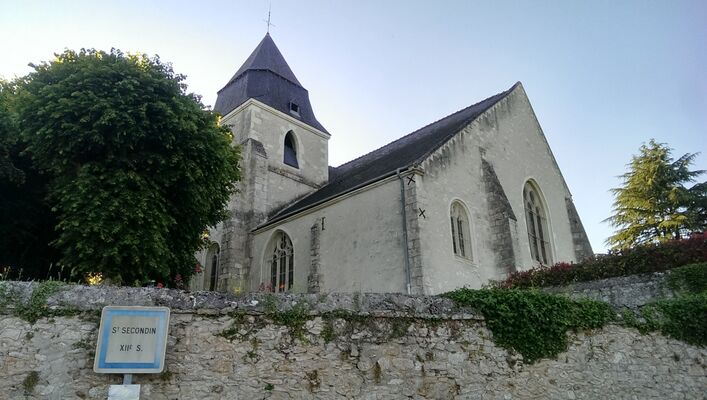 Molineuf est situé sur les bords de la Cisse, qui serpente du plateau céréalier de la Beauce jusqu'aux coteaux couverts de vignobles qui dominent la Loire aux portes de la Touraine.
Les communes limitrophes sont Orchaise, Saint-Lubin-en-Vergonnois, Saint-Sulpice-de-Pommeray, Blois et Chambon-sur-Cisse.
Lors du dernier recensement en 2013, la population de Molineuf s'établit à 784 personnes.

Le bourg : : Village "rue" à urbanisation linéaire, le centre-bourg vaut essentiellement par ses vues sur la Cisse, le moulin neuf et le lavoir à proximité de la mairie et de beaux points de vue sur Saint-Secondin et les coteaux environnants.
L'église de Saint-Secondin : Edifiée au XIIe siècle, l'église de Saint-Secondin reste une énigme tant pour son nom que pour son emplacement en pleine nature distante de toute construction. Visites commentées les dimanches de juillet et août. Concert classique du 15 août en l'église de Saint-Secondin.
La passerelle du Gué Taurau : Le hameau du Gué taureau est situé à moins de 1km du centre-bourg. Beau point de vue sur la Cisse, la passerelle et le lavoir du Gué Taureau.
Le hameau de Champigny : Champigny et son moulin se trouvent à l'extrémité nord de la commune de Molineuf. Situé dans un site verdoyant adossé au coteau, il est le parfait résumé des paysages de bord de Cisse.
Le hameau de Bury : Socle historique de la commune de Molineuf, le hameau de Bury connut une forte vitalité au moyen-âge et à la renaissance. Le château de Bury (non visitable) qui domine le hameau fut le premier édifice de style renaissance en France. S'il reste peu de chose de ce glorieux passé, le hameau de Bury conserve néanmoins un véritable cachet.
Le Carmel : Le Carmel de Blois a été fondé le 9 mai 1625 par celui de la rue Chapon à Paris. En 1977, il a transféré son implantation à Molineuf. Placé en haut du coteau du Bilheux, il domine la vallée jusqu'aux confins de Bury.
La zone humide des Rinceaux : Inaugurée en juin 2014, la zone humide des Rinceaux s'étend, à l'ouest de Molineuf, sur une superficie de 10 ha. Un cheminement de platelage ponctué de panneaux pédagogiques a été aménagé pour permettre aux visiteurs de découvrir en toute liberté cet espace naturel et écologique tout à fait remarquable.
Leave a review about Molineuf :
Horrible

Bad

Average

Good

Excellent
There is no review about Molineuf, be the first to leave one !