Herbault
Town, village, neighbourhood at Herbault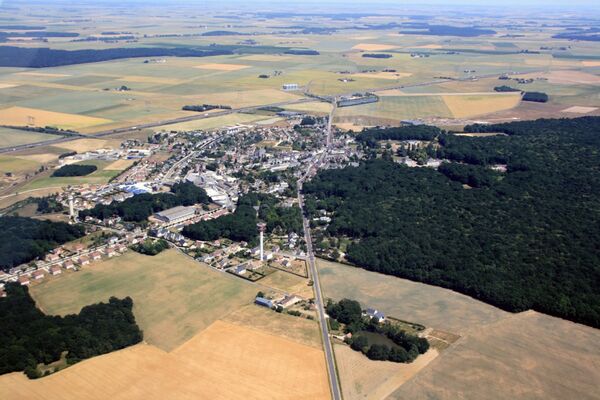 Herbault, à la frontière de la Petite Beauce et de la Gâtine Tourangelle, est traversée par l'autoroute A10 et desservie essentiellement par la RD 766, ancienne route nationale de Blois à Angers par Château-Renault, bénéficiant par là même d'une situation relativement centrale par rapport aux bassins d'emploi de Blois – Vendôme – Tours. Herbault est traversée quotidiennement par plus de 2 200 véhicules dont 12% de poids lourds. Le territoire communal se caractérise par un relief de bas plateau sillonné de petits vallons peu prononcés dont l'altitude moyenne se situe entre 115 m et 125 m culminant à 145 m au niveau du parc du château. Les milieux constitutifs du territoire communal sont pour l'essentiel développés sur 2 types de sols : les calcaires et marnes de Beauce ou les limons des plateaux d'un côté, les sables et argiles de l'autre. Le caractère verdoyant de la partie sud du bourg adossées à un vaste massif forestier contraste avec le développement d'activités artisanales ou industrielles au nord, à proximité de l'A10.
Associée aux communes de la communauté d'agglomération de Blois et celle de la communauté du grand Chambord au sein du Pays des Châteaux pour un contrat avec la Région Centre Val de Loire.
Herbault associé à 19 autres communes s'était constituée en communauté de communes « Beauce Val de Cisse » qui a fusionné avec Agglopolys le 01.01.2012.
Herbault comptait 1247 habitants en 2015 et s'étend sur une surface totale de 1301 hectares dont 1050 ha de cultures, 136 ha de bois et forêts.
Depuis 2015, Herbault a perdu son statut de chef lieu de canton au bénéfice d'Onzain. Cinq nouvelles communes ont rejoint le nouveau canton, qui passe de 21 à 26 communes. Il s'agit de : Fossé, Marolles, St Lubin, St Bohaire et St Sulpice de Pommeray.
Leave a review about Herbault :
Horrible

Bad

Average

Good

Excellent
There is no review about Herbault, be the first to leave one !