Saint-Laurent-Nouan
Town, village, neighbourhood at Saint-Laurent-Nouan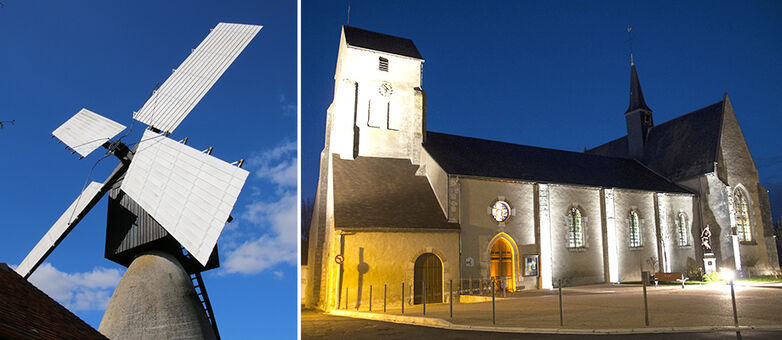 Située entre la Loire et la Sologne, à la porte des plus beaux châteaux de France, notamment du château de Chambord, Saint-Laurent-Nouan est une commune dynamique regroupant 4402 habitants au 1er janvier 2017 et appartenant à la Communauté de communes du GrandChambord.

Sur l'itinéraire des châteaux à vélos, la ville est un lieu d'accueil touristique particulièrement agréable. Son camping de l'amitié 3 étoiles, ouvert toute l'année, situé en bord de Loire, vous accueillera chaleureusement dans un environnement calme dominé par la nature. Vous pourrez parcourir les sites historiques de la ville, par un parcours piéton sous forme de visite libre avec les panneaux « L'histoire au fil des rues », qui vous guideront de l'église Saint-Laurent au moulin Cavier Saint-Jacques, du pont des amours à la fontaine de Saint-Laurent… .
N'hésitez pas également à vous munir de bonnes chaussures pour parcourir les chemins de randonnées qui vous emmèneront au château de la Barboire, aux ports Pichard et du Cavereau et bien d'autres lieux insolites. Pour les sportifs et amoureux de la nature, naviguez sur la Loire avec le parcours Eco-patrimoine et son topo-guide proposé par le Val des Châteaux Canoë-Kayak, dévoilant toutes les clés de lecture de la faune, de la flore et du patrimoine ligérien entre Saint-Laurent-Nouan et Saint-Dyé-sur-Loire.

Un peu d'histoire.
La commune de Saint-Laurent-Nouan est née en 1971 de la réunion des deux communes Saint-Laurent-des-eaux et de Nouan-sur-Loire. L'origine des deux villages est très ancienne, témoignés par des vestiges gallo-romains. Des visiteurs illustres se sont arrêtés à Saint-Laurent : Jeanne d'Arc, Charles VIII, Louis XIV, Gaston d'Orléans et Alfred de Musset ... .
Saint-Laurent-des-eaux et Nouan-sur-Loire étaient deux villages animés, à vocation touristique et commerciale, grâce à sa situation entre deux axes de communication importants : la route de Paris-Bordeaux et la Loire. Les villages étaient également situés sur le chemin traditionnel de pèlerinage à Saint-Jacques de Compostelle.
Aujourd'hui, cette commune au coeur touristique a aussi un fort développement économique par la centrale nucléaire. Partie intégrante du décor et de l'identité de la commune, la centrale propose des visites ouvertes au public, avec des animations accessibles aux petits et aux grands tout au long de l'année.
Leave a review about Saint-Laurent-Nouan :
Horrible

Bad

Average

Good

Excellent
There is no review about Saint-Laurent-Nouan, be the first to leave one !